Apr 17: What happens in Vegas penguins will totally blab about.

Apr 10: And they're really competitive.

Apr 03: Yes. They are.

Mar 27: Because it was longer. Way longer.

Mar 20: A new direction for AI?

Mar 13: A must-have item this winter.

Mar 06: Taking the matter into your own flippers...

Feb 27: My philosophy from now on.

Feb 20: Totally legitimate.

Feb 13: It's not getting to me in the slightest.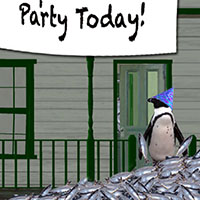 Feb 06: Nothing fishy here!

Jan 30: Plus the equipment is cheap. If it's available.

Jan 23: The worst is 'Penguin Runway: Mega Hats'

Jan 16: Hey, if the math works...

Jan 09: There's always a catch.

Jan 02: Turnabout is fair.

Dec 26: Happy holidays (and holiday feasts!)

Dec 19: When a treat is in order...

Dec 12: And follow up with a very innocent look.

Dec 05: There's motivation, and then there's motivation...