Dec 12: And follow up with a very innocent look.

Dec 05: There's motivation, and then there's motivation...

Nov 28: There definitely is a line.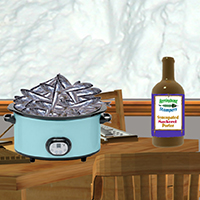 Nov 21: The Other White Powder.

Nov 14: And you thought travel couldn't get more confusing...

Nov 07: Deep dark secret.

Oct 31: Alas, politician season doesn't mean you can shoot them.

Oct 24: Frame it this way, and kids will want to learn to read, too.

Oct 17: You can take the truth too far...

Oct 10: Well, yes we can. But do we want to?

Oct 03: I wouldn't open it. In case you were wondering.

Sep 26: New criteria for deciding what's safe...

Sep 19: So anything you don't like is proof that time travel doesn't exist?

Sep 12: Or not...

Sep 05: Reality is overrated.

Aug 29: Or zombie hedge fund managers, even!

Aug 22: Velociraptors would be even better, but they seem to prefer Krav Maga.

Aug 15: Some of this is true.

Aug 08: In the penguiverse "catering" can be a pretty loose term.

Aug 01: Penguins' GMOs are labeled. But that doesn't necessarily help.